Avoid These Common Divorce Mistakes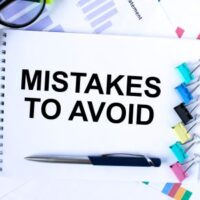 The divorce process can be an emotional and overwhelming process, so it can be easy for divorcing couples to make errors during the proceedings that can have long-term repercussions. To help you avoid making these mistakes in your own divorce, we've included a few of the most common and tips for how to avert them.
Making Emotional Decisions 
While it's okay and even preferable to recognize the emotional impact of divorce, it's important that couples avoid letting their emotions dictate negotiations or decision-making. Letting anger or disappointment, for instance, get in the way of a valid compromise can result in not only disagreements with a soon-to-be former spouse, but also poor decisions that can be almost impossible to reverse at a later date. Even though divorce is an emotional process, it is important for couples to remain calm and level-headed whenever possible.
Hiding Assets 
A major part of the divorce process involves categorizing and dividing marital assets, or property that was acquired by either party during the marriage. A major mistake that some couples make is to try and hide assets in an effort to avoid splitting them with a spouse by either selling the asset, giving it away, or simply not disclosing its existence. Not only is this type of conduct unethical, but it can also result in serious legal consequences, including the loss of the asset. To avoid this, couples should be sure to provide a full and accurate disclosure of their assets during discovery.
Overlooking the Tax Implications of Divorce 
How assets are divided during divorce can have significant tax implications. Some assets, for instance, are subject to capital gains taxes if they are sold, while others may have hidden tax liabilities. Even things like alimony and child support can have tax-related consequences when it comes time to calculate income and claim credits and deductions.
Not Following Court Orders 
Once a couple reaches a settlement agreement regarding how they will divide assets, whether one party will pay alimony, and if the party shares children, how they will divide time-sharing and parental decision making responsibility and it is approved by the court, it will become legally binding. As an official court order, it is important that the parties comply with its terms. Failing to do so can have serious consequences, including fines and a new division of assets.
Failing to Hire a Divorce Lawyer 
One common mistake made by couples during divorce proceedings is to fail to obtain legal representation. Getting divorced is a complex legal process and those without the support of an attorney can end up making costly mistakes that affect not only their financial situation, but also their emotional well-being. An experienced attorney can make all the difference in a person's ability to navigate the legal system, negotiate a settlement, and ultimately, protect his or her legal interests.
Call Today for Help with Your Divorce 
We understand that divorce can be emotionally challenging and will do everything we can to help you navigate this process as smoothly and in as stress-free a manner as possible. Call the dedicated Clearwater divorce lawyers at Cairns Law at 727-683-1472 to get started today.
Sources: 
leg.state.fl.us/Statutes/index.cfm?App_mode=Display_Statute&URL=0000-0099/0061/Sections/0061.075.html
irs.gov/pub/irs-utl/oc-tax-effects-of-divorce-separation.pdf