Changes Coming To Florida Alimony Law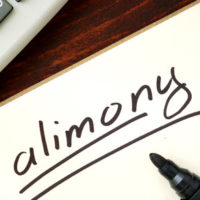 For a number of years, spousal support payments have been tax-deductible for the obligor (paying) spouses and tax-reportable for obligee (recipient) spouses. But the 2017 tax law rewrite obliterates these rules. Beginning January 1, 2019, spousal support payments will no longer be tax-deductible or tax-reportable.
Lawmakers predicted that the change would help women, the spouses who traditionally remain the largest recipients of alimony. The change essentially gives them a legal under-the-table income source. They can report spousal support as income if they want and not report it if they do not wish to do so. Others predict that the change will hurt women. They predict that obligors will claim they cannot afford to pay as much without the tax deduction.
While it's certainly not true in all cases, the alimony change will probably benefit women in Largo. As outlined below, the tax consequences are only one factor in determining the amount and duration of payments.
The Spousal Support Factors in Clearwater
Alimony reformers have long wanted the Sunshine State to do away with the list of factors in Section 61.08 and make spousal support a fixed formula, much like child support. But the subjective factors remain. Some key ones include:
Financial Resources of Each Spouse: The most important factor in alimony is balancing the obligee's financial need against the obligor's ability to pay. Note that the test is needs instead of wants and ability as opposed to willingness.
Length of the Marriage: Mostly because of the way it works with the next factor, longer marriages usually mean higher alimony payments, and shorter marriages mean lower payments.
Noneconomic Contributions to the Marriage: The "caregiver" contribution is often significant. That's especially true if the couple had a number of children and one spouse gave up economic or career opportunities to devote more time to child-rearing.
Future Income Potential: In other words, is the obligor physically and mentally healthy enough to keep working for a long time? And, does the obligee have a permanent economic hardship or is the barrier only temporary?
Tax Considerations: After December 31, 2017, this factor may become inconsequential, at least with regard to alimony. However, it may still be a factor in the overall property division, largely because of things like the property tax bill on a family home.
The good news is that these factors can change over time. So, spousal support is may be easier to modify in Florida than it is in other jurisdictions. The moving party essentially needs to show a substantial and material change of circumstances. Special rules apply as to retirement and re-marriage.
Types of Alimony in Clearwater
The above factors also apply as to the type of spousal support which the judge awards. The different types are:
Temporary alimony while the divorce is pending,
Bridge-the-gap alimony that provides an income stream for up to two years,
Rehabilitative alimony for obligee spouses in Largo who need slightly longer-term economic assistance,
Durational alimony if the other types are insufficient, and
Permanent alimony if the obligee spouse can never attain economic self-sufficiency.
Legally, the Florida judge must order the least amount of alimony possible. Permanent alimony, and even durational alimony, are typically only available in extraordinary cases.
Rely on Experienced Lawyers
Some alimony rules are changing, and others are staying the same. For a free consultation with an experienced family law attorney in Clearwater, contact Cairns Law, P.A. We routinely handle cases in Pinellas County and and the Tampa Bay area.