How Does Income Withholding Work?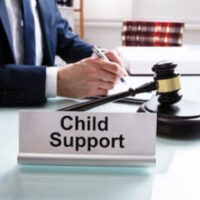 An income withholding order is a legal order issued by a family law court, obligating someone's employer to withhold money from a specific person's paycheck. The amount withheld is then sent to the state, which then disburses the funds as child support on behalf of the person whose paycheck was garnished. There are a number of steps that a petitioner has to take before a court will issue an income withholding order. To learn more about these steps, feel free to reach out to our legal team today.
Child Support Obligations
Children have the right to receive financial support from both of their parents until they reach the age of 18 years old. This doesn't stop being true because two parents separate or divorce. Instead, one parent, usually the non-custodial parent, will be required to make a monthly child support payment to the other parent. These funds can then be used for the child's support, which includes paying for rent, utilities, clothing, food, education costs, and entertainment expenses. Parents who are ordered to pay child support must do so or risk sanctions from the court, including fines, driver's license suspension, and income withholding.
What is Income Withholding?
Income withholding orders allow judges to garnish a parent's wages when that person has refused to pay child support as ordered by the court. Income withholding is only used to ensure the payment of current child support obligations. If a parent has past due payments, a special type of income withholding, known as wage garnishment, will be used to reserve a portion of a parent's wages for child support. The amount that is withheld from a parent's income will be equivalent to the amount that the court ordered him or her to pay in child support. The amount that a parent pays with wage garnishment, on the other hand, is a percentage of that person's earnings.
Support Notices
In Florida, when a court issues an income withholding order, the state's Child Support Program automatically sends notice of the order to the recipient's employer. This notice directs the employer to set aside a certain amount from an employee's paycheck and then send that amount to the Florida State Disbursement Unit, which is then tasked with sending the payment to the parent who is owed support. The Child Support Program isn't limited to sending these notices to employers, but is also permitted to send income withholding notices to other income sources, such as the Social Security Administration (SSA).
Contact a Clearwater Child Support Modification Lawyer Today
If your child's other parent isn't meeting his or her child support obligations, you may be able to seek an income withholding order from the court, which if granted, would ensure that you receive a regular payment every month from the parent's employer. To get started on your own case, reach out to one of the dedicated Clearwater child support modification lawyers at Cairns Law today. Call us at 727-683-1472 to set up an initial consultation. We are available for weekend and evening appointments.
Sources:
floridarevenue.com/childsupport/compliance/Pages/income_withholding.aspx
flcourts.org/content/download/403376/file/996d.pdf