How Long Will My Divorce Take?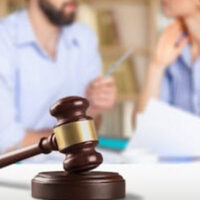 Whether you and your spouse have only just started discussing divorce or you've already filed, you've probably wondered how long the process will take. The answer to this question is complicated and varies depending on the particular family and their circumstances. Some divorces, for instance, can be finalized in as little as a month, while others could take more than a year.
Filing for a Simplified Divorce
One of the most important factors impacting how long a divorce will take is the type of divorce that a couple files for. A simplified divorce, for instance, takes the least amount of time, as only couples who don't have any minor children together, who have agreed to forego alimony, and who have already agreed on all divorce-related issues can file for it. To initiate a simplified divorce, both spouses must sign and submit a petition and exchange financial affidavits. At that point, the court will schedule a hearing no less than 20 days from the date of submission. As long as everything was submitted properly and there were no problems with the divorce agreement, the court will likely dissolve the marriage at the hearing. Generally, a simplified divorce can take as few as three weeks.
Filing for an Uncontested Divorce
Uncontested divorces, while a bit more complex than simplified divorce also tend to be resolved more quickly, with the couples ironing out their issues in an out-of-court setting rather than through litigation. To qualify for an uncontested divorce, couples will need to work through their disagreements and reach a favorable arrangement on issues like marital property, child custody, and alimony. Depending on how the parties negotiate and their willingness to compromise, a couple could require one mediation session or several. This will dictate how long a divorce takes. Filing an uncontested divorce still mandates a 20 day waiting period between filing the petition and the hearing, so an uncontested divorce still takes at least three weeks, but most take a couple of months.
Filing for a Contested Divorce
Contested divorces usually take the longest amount of time, as they require the parties to grapple with a host of complicated issues, like alimony, property division, child support, or child custody and require substantial court intervention. There are also a lot more steps to the contested divorce process. For instance, though a person can file for divorce instantly, that petition must be served on the other spouse, which can take anywhere from one to three weeks. The respondent then has 20 days to file a response. Both parties will then need to disclose their finances, which must be completed within 45 days from the date of service. If a couple has children, then they'll also need to undergo mandatory mediation before the final trial. Preparing for trial can take a number of months and more contentious cases can take even longer, often as much as a year or more.
 Available for Evening and Weekend Appointments
Every divorce is different, so it's impossible to predict exactly how long one will take. However, when you schedule a consultation with one of our experienced Largo divorce lawyers, we can assess your unique situation and advise you as to what you can expect moving forward. For more information call Cairns Law at 727-683-1472 today.
Sources:
flcourts.org/content/download/403028/file/901a.pdf
flcourts.org/content/download/403030/file/901b1.pdf