How Prenuptial Agreements Work In Florida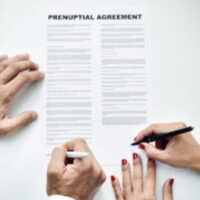 Prenuptial agreements are a type of contract that couples can enter into prior to marriage that determine what will happen to their assets in the event of divorce. These types of agreements have become an increasingly popular way for soon-to-be spouses to organize and plan their financial futures.
What Do Prenuptial Agreements Cover? 
Prenuptial agreements can cover a wide range of issues, including:
How two parties will divide their assets in the event of a divorce, death, or other specific event;
How couples will manage their property during the marriage;
Whether one of the spouses will be entitled to alimony during a separation or divorce;
How two parties will divide retirement plans or pensions; and
The names of any life insurance beneficiaries.
It's also important to note that while prenuptial agreements can help determine what will happen to a couple's financial holdings and assets, it cannot address issues related to child custody or child support.
What are the Reasons for Entering Into a Prenuptial Agreement? 
Entering into a prenuptial agreement is one of the best ways for a couple to protect their assets in the event of divorce. These kinds of contracts can be particularly helpful for those who:
Have assets earned before the marriage that they want to keep separate;
Have children from a previous relationship whose inheritance rights they want to protect; or
Have business interests that they wish to keep separate.
Without a prenuptial agreement, a couple who later divorces will need to divide all of their marital assets equitably. In some cases, separate property, or assets acquired by only one party before the marriage could also end up needing to be divided. Similarly, a child from a previous marriage could lose his or her rights to certain property in the event of a parent's divorce. By entering into a premarital contract, couples can have peace of mind knowing that there is already an agreement in place if they should decide to divorce or if one party were to pass away unexpectedly.
What Makes a Prenuptial Agreement Legally Enforceable? 
In Florida, prenuptial agreements will only be enforced if they are in writing, signed by both parties, and notarized. Both parties must also have signed the agreement voluntarily and there can be no evidence of fraud, duress, or coercion. A spouse can also later dispute a prenuptial agreement if the terms of the arrangement were extremely unfair and he or she:
Didn't receive a full disclosure of the other party's finances;
Didn't waive the right to such a disclosure; and
Had no way of knowing the details of the other spouse's financial circumstances.
If you believe that your own prenuptial agreement isn't legally enforceable, reach out to our legal team today for advice.
Request a Free Consultation with Our Clearwater Divorce Lawyers 
To speak with an experienced Clearwater divorce lawyer about whether a prenuptial agreement could benefit your family, call Cairns Law at 727-683-1472 today. A member of our legal team is standing by to get started on your case.
Sources: 
leg.state.fl.us/Statutes/index.cfm?App_mode=Display_Statute&URL=0000-0099/0061/Sections/0061.079.html 
floridabar.org/the-florida-bar-journal/the-uniform-premarital-agreement-act-taking-casto-to-a-new-level-for-prenuptial-agreements/