How To Calculate Child Support In Florida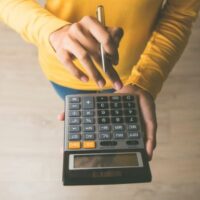 Ending a marriage is a painful and difficult time and things can become even more complicated when there are children involved. One of the most contentious issues that parents face when divorcing is how responsibility for the financial support of their children will be shared. Fortunately, Florida uses a specific set of guidelines when determining child support, which can help parents get a better idea of what they can expect to pay in the event of divorce.
Florida's Child Support Guidelines
Florida's Child Support Guidelines were put in place to ensure that both of a child's parents share some of the financial obligation of raising their children and that how that responsibility is shared is both fair and practical. Factors that could affect how child support is determined include:
Each parent's ability to financially support the child;
The cost of providing for the child's essential needs;
How much time each parent spends with the child; and
The number of children being supported.
Once parents apply the answers to these questions into the state's guidelines, they can get a better idea of what they will be expected to pay in monthly child support.
Calculating Child Support
When determining child support, both parents will be required to complete a financial affidavit that details their current income and expenses. Once the parties' gross incomes have been calculated based on this information, certain expenses and costs will be deducted from the total, resulting in individual net income. Eventually, a family law court will add each parent's net income together and use the factors we mentioned earlier (contained in the Guidelines) to determine the final amount of support that will be issued.
The last step in the process requires allocating a percentage of the obligation to each parent. This division is not always 50/50, so some parents may be required to pay more than the other. Each parent's obligation percentage will be based on the state's Guidelines. The final amount will be what the noncustodial parent must pay in support to the other parent. To change this amount, one of the parents will need to seek a modification in court.
 Child Support Awards
Child support payments must be used in support of the child in question. This can include everything from paying for a portion of the rent or mortgage and the cost of food and utilities to covering healthcare expenses and education costs, like uniforms and tutors. Extracurricular activities and entertainment costs also fall under this category. A parent who fails to use these payments for the care of their children could face serious penalties.
Available for Evening and Weekend Appointments
Dealing with child support matters can be confusing, stressful, and challenging. At Cairns Law, P.A., we believe that you shouldn't have to grapple with these issues alone. For help determining your own child support obligation, or to learn more about the process of modifying your award, call our dedicated Clearwater child support modification legal team at 727-683-1472 today. We know you lead busy lives and are happy to meet with you not only on weekdays, but in the evenings and on weekends as well.
Sources:
flsenate.gov/laws/statutes/2012/61.30
flcourts.org/content/download/403042/file/902e.pdf