Including Third Party Visitation In Your Parenting Plan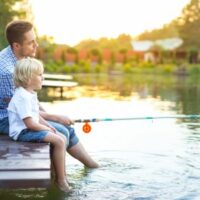 Parenting plans are detailed documents that dictate how much time each parent spends with his or her child, as well as how responsibility for childcare-related decision making will be shared. When drafting these plans, parents should be sure to include a detailed time-sharing schedule that covers not only which days a parent will have physical custody of a child, but also when the child will be spending time with a third party. This could be time spent with other relatives, or even time spent in daycare or at school. Being sure to mark when a child isn't with a parent is critical to creating a custody schedule that is both fair and in a child's best interests. For help negotiating a parenting plan that maximizes the time you spend with your child, reach out to our legal team today.
Third Party Time Can Change Custody Arrangements
Calculating third party time gives parents a better idea of how much quality time they are actually spending with their child. A schedule that dictates a 60/40 parenting time split, for instance, may actually be closer to 50/50 if the parents were to subtract the time that a child spends at daycare or with a babysitter on a weekly basis. Not all time with a third party, however, needs to be accounted for. Instead, parents should include this time in their calculations when it happens regularly, consistently, and for significant periods of time.
Who Qualifies as a Third Party for Custody Purposes?
Children often spend a fair amount of time with people other than their parents. In fact, for socialization purposes, doing so is usually in their best interests. This, combined with a couple's work schedules could make it necessary for a child to spend a certain amount of time with a babysitter, relative, or to attend daycare every week. Even an after-school group or extracurricular activity could qualify as third party custody and when added up, could cut significantly into a parent's time with his or her child. Parents should take this time into account when drafting their parenting plan and time-sharing schedules to ensure that time with a third party isn't substituted for quality time with the parents themselves.
Our Experienced Largo Child Custody Lawyers Are Here to Help
Coming up with a parenting plan that is in a child's best interests, but also fits a family's particular circumstances often ends up being one of the hardest parts of divorce for many couples. Fortunately, families don't have to go through this process alone, but can seek help from an experienced attorney, who can assist them in navigating custody negotiations. Call Cairns Law at 727-683-1472 to set up a free one-on-one meeting with one of our dedicated and compassionate Largo child custody lawyers and we'll get started on drafting your own agreement today. We are available to meet with you not only on weekdays, but can also schedule appointments on evenings and weekends.
Sources:
leg.state.fl.us/statutes/index.cfm?App_mode=Display_Statute&URL=0000-0099/0061/Sections/0061.13.html
flcourts.gov/content/download/686031/file_pdf/995a.pdf