Posting Bail in Domestic Violence Cases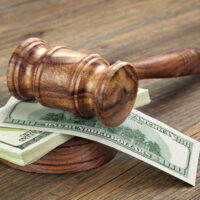 In Florida, domestic violence cases have their own set of rules that don't necessarily align with standard pre-trial release practices. For instance, someone who is accused of and arrested for domestic violence in Florida won't be allowed to post bail immediately, but will need to wait for the conclusion of an initial investigation and first court appearance. Having a thorough understanding of the legal procedures involved in a domestic violence case can help both parties protect their rights. These rules do, however, tend to be complicated, making it especially important for those who have been accused of domestic violence in Florida, to speak with a Clearwater domestic violence lawyer as soon as possible after their arrest.
State Investigation
If a person is arrested for domestic violence and taken to the local jail for booking, he or she won't immediately be able to obtain a release. This is because Florida law requires that before a defendant actually appears in court on a charge of domestic violence, the state must conduct an investigation into a defendant's prior criminal record, including whether he or she has any prior arrests for domestic violence, whether any walk-in domestic complaints have been filed against that person, and whether the defendant was subject to a prior injunction for protection. This information must be presented to the judge overseeing the case at the first appearance hearing, which must take place within 24 hours of arrest.
Mandatory Court Appearance
At a defendant's first court appearance hearing, the judge will read the arrest affidavit that was written by the arresting officer and decide whether there is probable cause to believe that the crime in question was committed by the defendant. The defendant's attorney will also be given the opportunity to point out weaknesses or inconsistencies in the case. If a judge issues a ruling that probable cause exists, he or she will then set the amount of bond, which is usually ordered based on a preset bond schedule. The court will also decide if there are any conditions of release, which in domestic violence cases, usually take the form of a no-contact order.
Posting Bond
Once a judge sets bond and the hearing is concluded, a defendant can start the process of getting out of jail. This process begins when the defendant posts bail, although it can still take from six to 12 hours to actually get released. During this time, the defendant will often be fitted with a GPS tracking device to ensure that he or she doesn't come within 500 feet of the accuser. Unfortunately, the pre-trial services department doesn't usually attach this equipment during the weekend, which means that some defendants are forced to wait until Monday before they are released.
Meet with Our Legal Team Today
Domestic violence charges are accompanied by a specific set of procedural rules in Florida. To ensure that your own rights are not violated during your arrest, booking, and first appearance hearing, please call Cairns Law at 727-683-1472 and speak with one of our dedicated Clearwater domestic violence lawyers about how we can help.
Resource:
leg.state.fl.us/statutes/index.cfm?App_mode=Display_Statute&Search_String=&URL=0700-0799/0741/Sections/0741.2901.html