Serving Divorce Papers On Your Spouse In Florida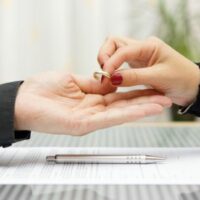 Whether you have decided to ask your spouse for a divorce, or expect your spouse to do so, the early part of the filing process can be a bit confusing. This is because filing for divorce requires more than just submitting paperwork to the proper court. While this is a crucial part of the divorce process, petitioners will also be obligated to ensure that the papers are served, or formally received by the other spouse, which requires compliance with strict rules.
What is Service of Process?
In divorce proceedings, service of process occurs when the respondent spouse, or the person on the receiving end of the divorce papers, actually receives them. Service of process must occur in a particular way to be considered valid, so petitioners must adhere to some very specific requirements when doing so. Petitioners cannot, for instance, serve divorce papers on their spouses themselves, but are required to obtain a third party's services. In Florida, this can either be the sheriff in the county where the respondent lives, or more likely, a certified process server.
Who Qualifies as a Certified Process Server?
A certified process server is a third party who is tasked with delivering legal documents, in this case, divorce papers, to someone else who is involved in the case. When it comes to divorce proceedings, these documents contain an official notice of the lawsuit and also require the recipient to respond to the petition in writing and/or appear in court for an initial hearing. To be considered a valid process server in Florida, a person must:
Be at least 18 years of age;
Be a permanent resident of the state;
Pass a background check;
Not suffer from any mental disabilities;
Pass a specific exam; and
Receive a Certificate of Good Conduct.
Process servers are usually individuals that are employed by a larger firm that specifically provides this legal service. If you have decided to file for divorce, your divorce attorney will be able to connect you with a trusted process server, who can ensure that your divorce petition is properly served on your spouse.
Additional Rules
There are a number of other rules regarding service of process, besides who can serve divorce papers. For instance, in most cases, a process server can't just leave divorce papers at someone's house or in a mailbox. Instead, the documents must be handed directly to the respondent or left in the care of an adult at the respondent's home. To serve divorce papers at work, a process server must notify the employer ahead of time. Process servers are also barred from delivering divorce petitions on Sundays.
Do You Need Help Filing for a Florida Divorce?
If you need help filing for divorce or obtaining the services of someone who can properly serve your spouse divorce papers, call the dedicated Clearwater divorce lawyers at Cairns Law, P.A. for assistance. You can learn more about the divorce process by calling our office at 727-683-1472 and setting up an initial consultation with a member of our legal team.
Sources:
leg.state.fl.us/Statutes/index.cfm?App_mode=Display_Statute&URL=0000-0099/0048/0048.html
firstjudicialcircuit.org/programs-and-services/process-servers