Tips For Co-Parenting In The Summer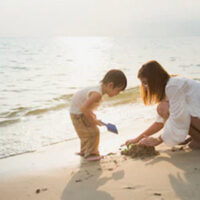 Most of us fondly remember summer vacations when we were children as a chance to spend time with family and friends and enjoy time off from school. Divorced parents, however, often face unique challenges when it comes to co-parenting in the summer months. Communication issues, problems with scheduling visits, and last minute requests to change a custody arrangement to accommodate a vacation can all make this a stressful time. Fortunately, there are ways to navigate these challenges. We've included a few tips below.
Focus on Communication
One of the most important things that co-parents can do to make sure the summer vacation months go smoothly is to focus on communication. Parents should be sure to discuss their plans for the summer ahead of time and to refer back to those plans often. If any changes to that plan need to be made, parents should be sure to communicate them as soon as possible. It's also critical to remain flexible and willing to compromise, as it is likely that unexpected changes will arise. By focusing on honest communication, co-parents can ensure that they have a strong working relationship for the sake of their children. Arguing and fighting will only be stressful for everyone involved and can ruin what would otherwise be a good opportunity to bond with one's children.
Keep a Consistent Schedule
While it can be more difficult to keep a consistent schedule during the summer months (in the absence of school), trying to do so can help reduce stress for both parents and children. Families should do their best to stick to a regular routine for visits, meals, and bedtimes. By discussing and sticking to these, parents can help give children a sense of stability and security.
Focus on the Children
Another tip for co-parenting during the summer is to focus on helping their children have a good summer experience. These months can be a great time for parents and their children to bond and create lasting memories, so parents should try not to let stress or conflict ruin this time together. Instead, they should focus on enjoying themselves, trying new hobbies, going on vacation, and spending one-on-one time together.
Seek Support
When challenges do arise when co-parenting, it's important for parents to remember that they are not alone. There are many resources available to help parents navigate the ins and outs of co-parenting after divorce. It's also important to seek support from friends and family and if necessary, a professional who can help them develop the skills that will enable them to become better parents.
Call Today to Speak with a Clearwater Child Custody Attorney
If you have questions about how your custody arrangement will work this summer, we can offer you the clarification and support you need. Contact the dedicated Clearwater child custody lawyers at Cairns Law, P.A. by calling 727-683-1472 today, or send us an online message and a member of our legal team will help you schedule an initial consultation. We are available for both evening and weekend appointments.
Sources:
flcourts.org/content/download/403367/file/995a.pdf
psychologytoday.com/us/blog/two-takes-depression/201203/the-dos-and-donts-co-parenting-well