Tips For Communicating With Your Co-Parent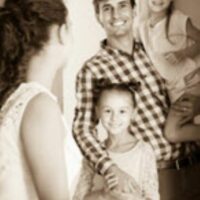 It's not always easy to establish a healthy co-parenting relationship, especially after a difficult divorce. Regular communication with a co-parent can end up being overshadowed by the reasons for a couple's divorce or ongoing disagreements. The reality, however, is that communication between co-parents is critical to creating a healthy and happy environment for a child. We understand, however, that is not always a simple undertaking and so have included a few tips on how to more effectively co-parent below.
Put Your Child First
While some couples are able to end their marriages amicably and maintain considerate and healthy relationships, this isn't always the case, which can be complicated when a couple also shares a child. In these cases, it's important to remember that the child is also processing the divorce in his or her own way and that by putting their own differences aside and focusing on the child's needs, parents can help make the transition to post-divorce life a bit easier. Making sure that your child feels loved and listened to should come before petty arguments or hurt feelings.
Promise to Make the Effort Early On
Having a conversation with a former partner about your concerns for your child and goals for your family can help ensure that you and your co-parent start out on the same page. The earlier in the proceedings that you can have this conversation, the better. Try to reach an agreement where you both acknowledge an intent to share information regarding your child and to keep the lines of communication open.
Find a Communication Strategy that Works for You
It's important for you and your co-parent to find a communication strategy that works for your family's lifestyle. Would intermittent phone calls be most helpful, or would you rather have meetings according to a specific schedule? You can also decide whether you'd rather discuss things via text message, on the phone, or even in person. You may decide that meeting up once a month to discuss your child's development is best, while such frequent meetings may not be necessary. Many parents benefit from using co-parenting applications and calendars, which can help parents keep up with their child's schedule without having to communicate constantly.
Be Clear and Remain Open 
It's important for co-parents to carefully discuss how they feel about all aspects of childcare, including education, curfews, rules, discipline, extra curricular activities, eating habits, screen time etc. Make sure that you are clear when discussing your opinions with your co-parent, but don't forget to be open to their point of view either. If you disagree, try to find a middle ground.
Speak with Our Dedicated Largo Child Custody Lawyers
Co-parenting with a former partner can be hard. Fortunately, you don't have to come up with a custody arrangement on your own, but can work with an experienced Largo child custody lawyer, who can help you create a plan that is in your family's best interests. Call Cairns Law at 727-683-1472 to learn more.
Sources:
coconino.az.gov/DocumentCenter/View/8054/Coparenting_Communication_Guide1?bidId=
raisingchildren.net.au/grown-ups/family-diversity/co-parenting/co-parenting