Using Technology To Co-Parent After Divorce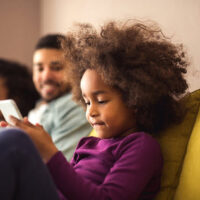 Ending a marriage can be difficult for all of the parties involved, including not only couples, but also any children that they may share. However, parents who work together to co-parent their children as a team and who focus on communication can make the process of divorce a lot easier for their children. Using technology is one way to do this, as it can provide parents not only with a way to communicate regularly with each other about parenting issues, but also with their children, who can gain a sense of security from routine contact with both parents.
Increasing Communication with Your Child
A focus on good communication is critical for any parent who is looking to maintain a healthy relationship with a child after divorce. In prior decades, staying in contact with a child could only be achieved in a few ways, by phone, letter, or in-person visit. Recent technological advancements have, however, made it easier than ever for parents to communicate regularly with their children. Mobile phones with communication apps can, for instance, help keep the lines of communication open during divorce, while video calls can give parents a chance to stay up-to-date on their child's activities and general well-being. Children will feel happier and safer knowing that they can still reach their parents, even after divorce. This in turn, can make the transition to post-divorce life, which will likely involve a custody schedule in which a child doesn't see both parents everyday, a bit easier for everyone.
Talking with Your Co-Parent
Using technology, which includes everything from texting and video calls to emails, online chats, and signing up for parenting apps can improve communication with your co-parent. Special parenting applications, in particular, can help keep parents connected and on the same page when it comes to their kids. Many of these apps, for instance, have shared calendars, where parents can see their parenting schedule and make any requests if a change is necessary. This calendar gives parents a way to inform each other of their child's day-to-day activities without requiring a phone call or in-person meeting.
Co-parenting apps also have messaging capabilities, which can be helpful for parents who may still have a hard time talking face-to-face. Couples who use these applications can instead send messages to each other about their schedules, questions, or concerns. Finally, co-parenting apps can be used to help track a child's expenses, which can help when determining or modifying child support.
Do You Need Help with a Child Custody Issue?
There are a lot of products and services out there that can help you co-parent more effectively after divorce. For help with your own child custody-related questions and concerns, feel free to call 727-683-1472 and set up a meeting with the dedicated Largo child custody lawyers at Cairns Law, P.A. today. You can also schedule a consultation by completing one of our online contact forms.
Sources:
journals.sagepub.com/doi/abs/10.1177/02654075211043837
parents.com/parenting/best-co-parenting-apps/