What Does Child Support Cover?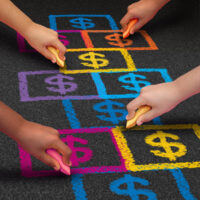 Child support is a type of financial support that is paid by one of a child's parents to the other, often after divorce and continuing until the child reaches the age of majority. These payments are designed to cover a portion of the child's living expenses, like rent or mortgage, utilities, food, and clothing. How much a parent has to pay in child support depends on each parent's income, the child's expenses, and the family's particular time-sharing arrangement.
Basic Needs
Child support payments are intended to cover a child's basic needs and expenses, including the cost of:
Shelter (i.e. rent or mortgage);
Food;
Clothing; and
Utilities.
When a child lives primarily with one parent, then that parent is entitled to child support, which is used to cover a portion of these day-to-day costs.
Education and Extracurricular Activity Costs
Child support payments, besides covering the costs of a child's basic needs, are also used to pay for education expenses, including:
Tuition;
Supplies;
Books; and
Uniforms.
Courts can also order an increase in child support based on the funding needed for private school expenses, but only if sending the child to that school is deemed to be in his or her best interests.
If a child is part of a sports team or attends another regular extracurricular activity, then child support payments can also be used to cover associated fees and costs. Team fees, travel costs, uniforms, and sporting equipment, for instance, would all fall under this category.
Healthcare Expenses
Child support orders also cover a child's healthcare expenses, like emergency medical care, vision, dental and orthodontic care, prescription medications, and specialized therapies. Fortunately, courts do take health insurance costs into account when calculating child support, so a parent who pays for a child's health insurance can expect to see a corresponding reduction in how much child support he or she owes every month. Any non-covered health costs will be apportioned to each parent according to a specific percentage. This could be a 50/50 division, or on a pro rata basis, which means that each parent pays a percentage of the total cost based on the parties' combined income. Uncovered expenses aren't usually a part of the child support agreement, as they often change month to month. In these situations, one parent will pay the bill and the other will reimburse that parent depending on the percentage owed.
Daycare and Other Childcare Costs
Daycare and other childcare costs are also taken into account when calculating child support, with each parent required to pay a certain portion of a monthly total. Some families, however, choose a pro rata approach, especially if their childcare needs are not the same month-to-month.
Available for Evening and Weekend Appointments
Do you have questions about what your child support order covers? The dedicated Clearwater child support modification lawyers at Cairns Law are here to help. Call us at 727-683-1472 to set up an initial consultation. We are available for evening and weekend appointments.
Sources:
flsenate.gov/laws/statutes/2013/61.30
flcourts.org/Resources-Services/Office-of-Family-Courts/Family-Courts/Child-Support