What You Need To Know About Virtual Visitation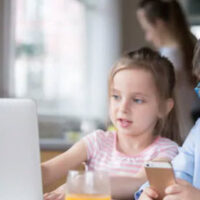 Technological advancements have made it easier than ever to stay connected with each other, no matter the distance between them. This has come to have special implications for child custody matters, with virtual visitation a very real option for many non-custodial parents. In fact, Florida is one of the few states to have actually addressed this practice, allowing parents to include virtual visitation rights in their parenting plans. For help determining whether this type of arrangement could be right for you and your family, please reach out to one of our experienced Largo child custody lawyers today.
What is Virtual Visitation?
In Florida, family law courts are allowed to order electronic communication between parents and their children as part of a parenting plan arrangement. When it comes to deciding what qualifies as electronic communication for purposes of visitation, courts may consider some or all of the following:
Phone calls;
Text messages;
E-mails;
Instant messaging;
Social media contact; and
Video conferencing.
Depending on the circumstances of a case, a judge could actually order, in a parenting plan, that a non-custodial parent has the right to receive video or phone calls from his or her child at least twice a week. Based on the family's schedule, this order may even include specific days and times, with which the other parent must comply or risk being held in contempt.
Determining Factors
When determining whether to order electronic communication in a custody case, Florida judges are directed to assess a number of factors, including:
Whether electronic communication is in the child's best interests;
The affordability and availability of the specific form of electronic communication;
Whether there is a history of abuse by either parent; and
The child's opinion (if he or she is deemed mature enough to make a reasonable decision).
Unless one of these factors weighs against such an order, courts will generally presume that electronic communication is in a child's best interests, especially when one of the parents lives a great distance from their children.
The Benefits of Virtual Visitation
Virtual visitation gives parents the ability to see and hear their children even when they can't be physically present due to distance or conflicting work schedules. This type of contact has also proven to reduce separation anxiety for children who are still struggling with their parents' divorce and has the added benefit of reducing face to face contact between parents who have an acrimonious relationship.
The Drawbacks of Virtual Visitation
Although virtual visitation has a number of benefits, it also has a few drawbacks. If utilized improperly, for instance, electronic communication can be used to replace physical interaction between parents and their children, which can negatively impact a child's developmental growth. It is also often easier for one parent to restrict virtual visitation, which can have negative repercussions for the child's relationship with the other parent.
Call Today to Set Up an Appointment
To speak with an experienced Largo child custody lawyer about whether virtual visitation could be right for you and your family, please call Cairns Law at 727-683-1472 today.
Resource:
leg.state.fl.us/Statutes/index.cfm?App_mode=Display_Statute&Search_String=&URL=0000-0099/0061/Sections/0061.13003.html