Five Dos and Don'ts of Restraining Order Defense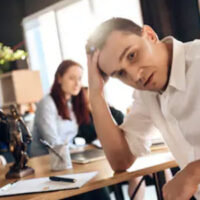 When issuing restraining orders, especially ex parte restraining orders, many judges side with alleged victims, err on the side of caution, and issue such orders. As a result, as many as two-thirds of restraining orders might be essentially baseless. However, that statistic is certainly no reason to take a restraining order lightly, especially if there is a parallel proceeding in family court.
Technically, restraining orders are not criminal matters. Therefore, many of the normal Constitutional protections do not apply. There is no presumption of innocence. And, the burden of proof is much lower. If the alleged victim proves the allegations are anything more than completely frivolous, those allegations might hold up in court.
Many respondents fail to take restraining orders seriously, especially if they believe the alleged victim is fabricating allegations. But there are almost always two sides to every story. To make sure the judge believes your side, you need a Clearwater family law attorney in your corner. You also need to do, and refrain from doing, certain things. This activity greatly improves the chances that the judge will at least favorably modify the restraining order at a subsequent hearing.
DO Obey the Order
Almost all ex parte restraining orders contain no-contact orders. To avoid temptation, delete the alleged victim from your contacts. Furthermore, unless you have a child together, consider blocking the alleged victim's number. Do the same for social media accounts.
If the order contains a support obligation, like child support, pay through an online portal if possible. This method leaves an electronic payment trail that serves as indisputable evidence of payment.
On a related note, do not test the order's limits. If you must stay 50 feet away from the alleged victim, stay far, far away. Also, do not fall for potential traps, such as an invitation to "work this out."
DON'T Destroy Evidence
IT's often a good idea to delete the alleged victim from your contact list. But do not delete existing text messages. Move them to the cloud or download them onto your computer. Even if the text messages are not incriminating, such action casts you in a suspicious light.
If possible, do not throw out the trash before the hearing date. You never know what seemingly useless evidence might become critical.
DO Collect Evidence
As mentioned, there is no presumption of evidence in restraining order hearings. You must have evidence that refutes the alleged victim's claims. Pay close attention to the specific allegations in the alleged victim's affidavit and collect evidence that refutes these points. Your attorney can help you.
DON'T Contact Possible Witnesses
During the evidence collection process, do not contact any potential witnesses, whether they are favorable or unfavorable. Any such contact could be considered tampering. If necessary, your attorney can reach out to these people and issue subpoenas.
DO Develop an Alternative Theory
Collecting evidence is not enough. Your attorney must develop an alternative theory of the case based on the available evidence. For example, if witnesses place you at the scene, it is impossible to claim nothing happened. Typically, alternative theories involve the alleged victim's honest misinterpretation or misremembering of events.
Count on a Thorough Lawyer
If the judge issues an ex parte restraining order, by all means, take it seriously. For a free consultation with an experienced Clearwater domestic violence lawyer, contact Cairns Law, P.A. After-hours visits are available.
Resource:
saveservices.org/2017/11/basic-facts-and-statistics-about-restraining-order-abuse-in-divorce-and-custody-disputes/
https://www.cairnslaw.com/setting-up-a-restraining-order-defense-in-florida/