The Five Types of Restraining Orders in Pinellas County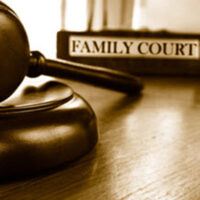 Many people always view domestic violence as a one-off anomaly. But in most cases, that's not accurate. The roots of domestic violence often go back to the alleged abuser's teen years. Frequently, the alleged abuser either witnesses domestic violence at that time or perpetrated it on someone else. And, unless someone does something, the alleged abuser's children will probably grow up the same way. Only a protective order breaks this cycle.
Because there are several types of domestic violence, there are several types of restraining orders. Some of them do not require legal representation. But all of them require at least a consultation with a Clearwater family law attorney. Only a lawyer advocates directly for victims and gives them solid legal advice.
Protection Against First-Time Domestic Violence
The most common type of domestic violence order is usually available for legally-married spouses who have experienced physical, emotional, verbal, or other violence.
Frequently, these orders negate some conduct and order other conduct. Protective orders prohibit violent behavior. In some cases, they also include no-contact orders. That could mean forcibly evicting an alleged abuser from a shared residence, even if the alleged abuser's name is on the lease or deed. Additionally, many protective orders direct alleged abusers to pay child support and other domestic support.
Generally, judges issue ex parte restraining orders based on the alleged victim's affidavit. If there is a current or recent parallel family law case, some judges hesitate to issue such orders without hearings. That's where an attorney is useful. Whether the judge grants or denies the emergency request, there is usually a full hearing about two weeks later.
Protection Against Repeat or Dating Violence
If you do not qualify for a domestic violence restraining order, you might still qualify for protection. Domestic violence often affects unmarried partners, such as dating partners or live-in relationships. Additionally, if the alleged abuser committed two violent acts within the last six months, and that includes stalking, this order might be available.
Almost all domestic violence orders involve married or formerly married people. And, most victims reach out for help after the first incident. So, repeat/dating orders do not come up very often.
Anti-Stalking Injunctions
Following another person with the intent to disrupt that person's life is just as serious as other kinds of domestic violence. So, a unique protective order is available. Anti-stalking injunctions do not have a relationship or prior behavioral qualification. Any alleged victim can obtain an anti-stalking order against an alleged abuser. Furthermore, once the judge issues an order, alleged victims can put third parties, like schools and daycares, on notice about the problem.
Risk Protection Orders
These orders prohibit people from buying or owning firearms or ammunition. Typically, only peace officers can request risk protection orders.
Protective Order Enforcement
Some people do not request protective orders because they feel they are simply pieces of paper that offer no real protection. That's true, if an attorney does not enforce the order. Generally, parties need only establish violations by a preponderance of the evidence (more likely than not). Possible sanctions could include jail time. But more probably, the judge will extend the order and/or add additional conditions. Repeated violations, even if they are technical violations, usually means incarceration.
Connect with a Dedicated Lawyer
Domestic abuse victims have several legal options. For a free consultation with an experienced Clearwater family lawyer, contact Cairns Law, P.A. After-hours visits are available.
https://www.cairnslaw.com/seven-good-reasons-to-change-your-name-today/